About the Museum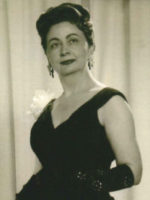 From fine examples of delicately crafted porcelain to artful everyday wares, the Burrow Museum's vast collection includes more than 5,000 objects primarily of porcelain, pottery, glass and bronze from the Victorian era to modern times. Highlights are on display in the Museum's main gallery and its Porcelain Room. Throughout the Museum, Wallace State shares Mrs. Burrow's appreciation for the decorative arts, her passion for collecting, and her particular love of horses with patrons, inspiring all to see the beauty in objects that surround us every day. Please see our schedule for upcoming visiting exhibitions.
The Evelyn Burrow Museum is located in the Ottis and Evelyn Burrow Center for the Fine and Performing Arts at Wallace State Community College. The Center is located near the front of campus on the corner of US Hwy 31 and College Drive.
Evelyn Burrow was born Mary Evelyn Hamilton in 1920, one of twelve children in a successful Cullman County farming family. She married Ottis Burrow in 1937, and together they became pillars of the Cullman community. Evelyn Burrow was a modern woman before her time, an entrepreneur who operated businesses in a man's world, from a stint managing a Western Union, where she collected her first porcelain and glass wares – trading art for services and gasoline during the war – to running the Palomino Motel and Restaurant with her husband, where friends and guests contributed to the couple's immense collection of horse figurines, to opening one of the most successful Holiday Inns in America, which held a Top 10 spot for years and attracted such guests as Ethel Kennedy. Mrs. Burrow's diverse business interests afforded her many international travel opportunities and exposed her to art from around the world. During retirement she ran a growing antiques business and later established the museum that would become her legacy.