"Darkness into Life: Alabama Holocaust Survivors through Photography and Art."
September – October 2010  
The Birmingham Holocaust Education Committee and Wallace State Community College in Hanceville are proud to present "Darkness into Life: Alabama Holocaust Survivors through Photography and Art." The exhibit, sponsored by Wallace State's Common Read Committee and The Evelyn Burrow Museum, will be on display in the Ottis and Evelyn Burrow Center for the Fine and Performing Arts at Wallace State from Monday, September 20, through Friday, October 15.
In this sensitive assembly of photography by Becky Seitel and art by Mitzi J. Levin, viewers are provided intimate glimpses into the private memories of twenty Alabama Holocaust survivors. Seitel and Levin spent hours visiting each survivor and listening to their stories. The survivors began with their memories of life before occupation and imprisonment. Their stories continue with their lives in Birmingham, Huntsville, Montgomery, Mobile and Opelika.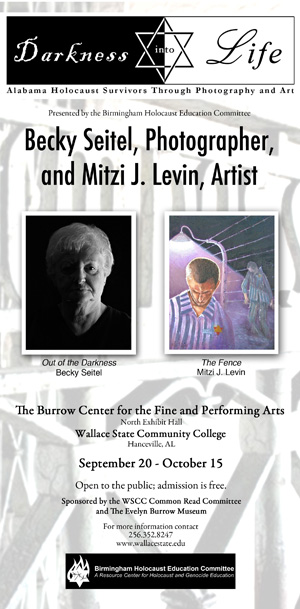 Both artists provide bold, thought-provoking and moving paintings and photographs with text explaining the personal stories behind each piece. Survivor biographies and maps provide an additional historical dimension to the exhibit.
"Through the stories of these Alabama Holocaust survivors, we hope to impart this history, as well as a richer understanding of its impact on these individuals and their families, to a larger audience. View their pictures. Read their stories. Allow this exhibition to move you." – Becky Seitel, Photographer, and Mitzi J. Levin, Artist, "Darkness into Life"
Admission to the exhibit and to the museum are free.
Wallace State's Common Read is a yearlong project that brings the Wallace State community together around a single literary work, with supplementary activities and materials expounding on the common theme. This year's book is "The Boy in the Striped Pajamas" by John Boyne, which depicts the atmosphere in Nazi Germany during the early 1940s and the persecution of Eastern European Jews through the eyes of Bruno, a naive nine-year-old boy.
The Common Read Committee has also invited two Holocaust survivors associated with the exhibit, Riva and Aisic Hirsch, to speak to the campus on Thursday, October 14 at 9:30 a.m. in the Burrow Center Recital Hall. The community is invited to attend.
Wallace State Community College is located at 801 Main Street NW in Hanceville, Alabama. "Darkness into Life" will be on view in the Burrow Center, at the corner of Highway 31 and College Drive, during the regular business hours of The Evelyn Burrow Museum—Tuesday through Friday from 9 a.m. to 5 p.m. and Saturday from 10 a.m. to 2 p.m.—and at other times when the Burrow Center is open.
Contact The Burrow Museum for exhibit / programming information at 256-352-8457 or visit the Wallace State's website at www.wallacestate.edu.
This exhibit was created for educational purposes. School and special group tours are encouraged. For more information please contact Donny Wilson at 256-352-8457.
"Out of their pain and sadness came a deep appreciation of life and the desire to reclaim their future. They shared their memories and asked that we never forget." – Becky Seitel, Photographer, and Mitzi J. Levin, Artist, "Darkness into Life"