By Tiffeny Owens
The Cullman Times Sep 5, 2013
Visitors to the Evelyn Burrow Museum at Wallace State Community College this month can take in the beauty and detailed artistry of 20 American birds illustrated by famed naturalist John James Audubon.
Lithographs of the various works are on display at the museum and can be viewed free of charge from 9 a.m.- 5 p.m. Tuesday through Friday and 10 a.m.- 2 p.m. Saturday through Sept. 30. Since Audubon is such a well-known artist, Wallace State seized the opportunity to exhibit the lithographs on loan from the Tennessee Valley Museum of Art in Tuscumbia, said Kristin Holmes, Wallace State communications and marketing director. Billy and Wanda Isom gave the lithographs featuring hand-applied color on hand-made paper to the Tennessee Valley Museum of Art as a gift, Holmes said.
"We were very fortunate to get the chance to do this exhibition. We felt like this is one every museum needs to do at least once at some point," she said. "The way we have arranged them, they all look so beautiful in our museum."
Audubon completed 10 works on display between 1827 and 1838: Sharp-skinned Hawk, Snowy Heron, Louisiana Heron, Carolina Turtle Dove, Hooded Merganser, Ruby-throated Humming Bird, White Headed Pigeon, Summer or Wood Duck, Whip-poor-will and Blue Crane or Heron. The remaining 10 illustrations were done between 1840 and 1844: Bobby Gannet, Long Tailed Duck, Mealy Redpoll Linnet, Common American Gull or Ring-billed Gull, Black or Surf Duck, Noddy Tern, Kittiwake Gull, Sooty Tern, Havells Tern and Black-shouldered Elanus.
Besides the visitors eager to get an up-close look at the famous illustrations, several classes have utilized the special exhibit.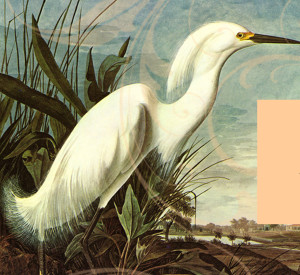 "Students with our English classes have done some critical writing exercises, and we've also had biology classes in to view the exhibit," Holmes said. "I think it's fair to say it's been our most popular exhibition so far."
In keeping with the spirit of the Audubon exhibition, items from the museum's permanent collection have been brought out for display including several rare and discontinued Lladro porcelain figures, porcelain horses and other objects inspired by nature. A ruby glass display is now featured in the museum's upstairs atrium gallery space.
Audubon was a French-American ornithologist, naturalist, and painter who became renowned for his documentation of all types of American birds and his detailed illustrations that depicted the birds in their natural habitats. His major work, a color-plate book entitled The Birds of America (1827–1839), is considered one of the finest ornithological works ever completed. A complete bound double-elephant first edition of The Birds of America holds the record for the most expensive printed book ever sold at auction when it sold in 2010 by Sotheby's for $11.5 million.
Audubon insisted the book be printed on the largest handmade sheets available at the time to portray the birds in their actual size and natural habitat. He found creative ways to paint them to fit the page, including showing large species like the American Flamingo feeding with their necks bent.
For more information about the Audubon exhibit, contact the Evelyn Burrow Museum at 256-352-8457.
Tiffeny Owens can be reached email at towens@cullmantimes.com or by phone at 256-734-2131, ext. 135.