Charlotte Cummings Memorial Sneaker Collection
Cullman, AL – On January 19, 2016 – March 15, 2016, visitors to The Evelyn Burrow Museum on the campus of Wallace State Community College will be able to see the most complete collection of sneakers on exhibit in the Eastern United States.
Robin Cummings will debut the Charlotte Cummings Memorial Sneaker Collection, and according to Cummings, this is "a dream come true."
Cummings' collection includes 536 pairs of sneakers, 430 of which will be on display at the exhibit.

"We have 12 complete sets of original Air Jordan shoes. We have complete collections of all colorways of the 7's, 10's, 11's (except 1), 15's (except 1) and 29's. Our collection includes selected Kobe, KD and Lebron releases. We also have memorabilia displays of Michael Jordan, Charles Barkley, Bo Jackson, The Birmingham Barons and Andre Agassi. The memorabilia includes game worn and signed shoes and game issued jersey (signed) and pants by Michael Jordan as well as a game worn jersey by Barkley. The exhibit will also include close to 50 original framed Nike posters and much more," Cummings said.
Charlotte Cummings, Robin's late wife, ran the family sporting goods store. In the mid-eighties when Nike first released the original Air Jordan, Charlotte began setting aside pairs for safe-keeping. "Just wait," she said, "Michael Jordan is something special."
Now, in 2015, a collection that will have Sneakerheads, sports fanatics, pop-culture history buffs, and everyone in between with their jaws on the floor will be on display.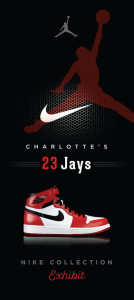 Robin Cummings began adding to the collection nearly two years ago, and at the age of 69 has garnered widespread attention on Instagram where sneaker-culture has taken on a life of its own. This is a story that has so many layers, and is rooted in the vision of a great woman. It is truly a time capsule into the time in sports history just at the beginning of sporting-goods being a part of American culture.
A reception and grand opening for the exhibit will be held at 2pm on Sunday, January 24, 2016. The public is invited to attend.
Kristen Holmes
Director, WSCC Communications & Marketing,
and Administrator, The Evelyn Burrow Museum
Wallace State Community College
801 Main Street NW, PO Box 2000
Hanceville, AL 35077
256.352.8118 w 256.339.2519 c
Visit us online at www.wallacestate.edu