Evelyn Burrow Museum hosting Regional Sculptors Invitational Exhibit
CONTACT: Gail Crutchfield, Communications and Marketing, Wallace State Community College, (256) 352-8064, gail.crutchfield@wallacestate.edu
Evelyn Burrow Museum hosting Regional Sculptors Invitational Exhibit
HANCEVILLE, Ala. — The Evelyn Burrow Museum at Wallace State Community College in Hanceville, Ala., is hosting its first Regional Sculptors Invitational Exhibit. Acclaimed regional sculptors, including the world-renowned artist Nall, have lent the museum numerous pieces of artwork that range from metalwork and glass to wood and paper and more.
"This is a marvelous show, and one that rivals exhibits at larger museums," said Donny Wilson, director of the Evelyn Burrow Museum. "We've worked very hard to show a variety of mediums and artistic styles through this exhibit. The caliber of artists we've attracted is amazing and the pieces we have on display will have something to suit everyone's taste. And, if it's not to their taste, they'll definitely have something to talk about."
There are 17 sculptors participating in the exhibit, with most showing four pieces of artwork. Artists in the exhibit include:
– Everett Cox of Huntsville
– Glen Dasher of Hunstville
– Casey Downing Jr., of Mobile
– Jude Johnston (NovOntus) of Cullman
– Dale Lewis of Oneonta
– Christopher McNulty of Opelika
– Branko Medenica of Birmingham
– Ted Metz of Montevallo
– Scott Meyer of Montevallo
– Larry Millard of Athens, Ga.
– Brad Morton of Birmingham
– Nall of Alabama
– Robin Snyder of Birmingham
– Lee Somers of Montevallo
– Ted Whisenhunt of Young Harris, Ga., formerly of Birmingham
– Emily Williams of Columbus, Ga.
– Rachel Wright of Mobile
The exhibit will run through Sept. 30. A reception will be held from 4-6 p.m., Tuesday, July 22.
As always, admission to the museum is free. The museum is open from 9 a.m. to 5 p.m., Tuesday through Friday and 10 a.m. to 2 p.m. on Saturday. For more information or to schedule a tour, call 256.352.8457 or visit www.burrowmseum.org.
CUTLINES: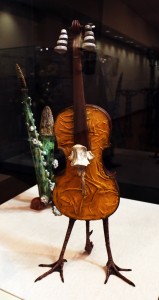 Violin by Nall
World-renowned artist Fred Nall Hollis, known professionally as Nall, has two pieces of work on display at the Evelyn Burrow Museum. "Violin" and "Swamp Sax" are perfect examples of Nall's use of found materials to create sculpture.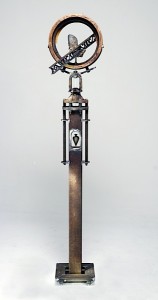 #1 PLUMB & LEVEL The offer Series
Ted Metz of Montevallo is showing pieces from The Offer series. This piece is entitled "Plumb & Level."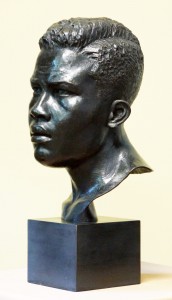 2Joe-Louis-Barrow
Casey Downing Jr.'s bust of boxer Joe Lewis is one of the pieces the Mobile sculptor has on display.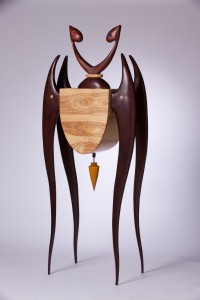 DaleJuly007
Wood is the medium of choice for Oneonta artist Dale Lewis, who has several of his whimsical pieces on display at the Burrow Museum.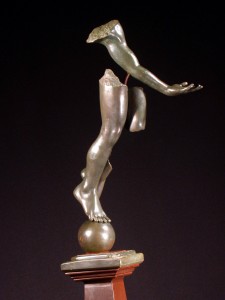 Fleet
"Fleet" is the name of this piece by Huntsville artist Glenn Dasher, one of several on display in the exhibit.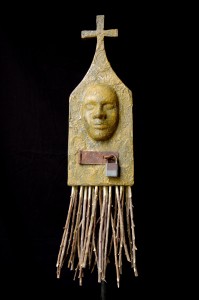 Saint Peter Uprooted
Ted Whisenhunt of Young Harris, Ga., formerly of Birmingham, has a series called Uprooted Saints on display, which includes this one entitled "Saint Peter Uprooted."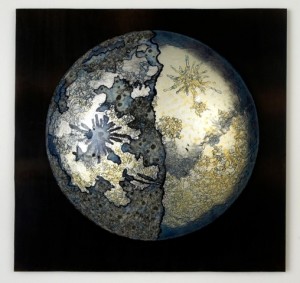 Wright_Rachel_Quarter_Moon
Rachel Wright of Mobile's Man in the Moon series pays homage to her late father, Richard Odell, who designed radios that served on the Apollo 11 mission to the moon. Some of his ashes are fused into the glass compositions of the two pieces on display at the museum.