Sharpton Retrospective on Exhibit at Wallace State's Burrow Center in February 2011
An exhibition of the artwork of Wallace State Community College's Artist-in-Residence William Sharpton will be on display in The Evelyn and Ottis Burrow Center for the Fine and Performing Arts during the month of February. The show, "William Sharpton: A Retrospective of Paintings and Photographs" is sponsored by The Burrow Museum and coincides with the celebration of Sharpton's 80th birthday on February 8. Approximately 80 oil paintings and black and white photographs by Sharpton are on display. Many of the scenes depicted in the exhibit are areas in Cullman County where Sharpton grew up, while others are inspired by his travels during 20 years in the Navy.
Admission to the exhibit is free and open to the public anytime the building is open. Sharpton's paintings are view on the North Exhibit Hall on the first floor of the Burrow Center, and his photography is on display on the second floor.
About William Sharpton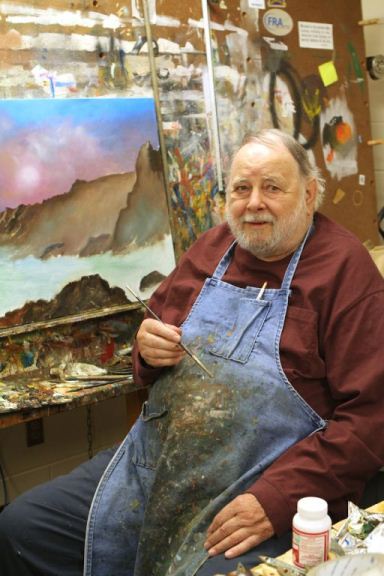 William "Bill" Sharpton was born February 8, 1931, in the Harmony Community near Crane Hill in western Cullman County. He moved from school to school out of necessity in his early years, first attending Crane Hill for two years until it burned in 1937, then the school at Livingston Chappell Church for two years until the new Dowling School was built. Sharpton left Dowling in 6th grade and moved to Akron, Ohio where he enrolled at Voris Elementary School and later Garfield High School before moving back to the Harmony community and Dowling School to continue his education.
In his teens, Sharpton developed a tremendous wanderlust, spurred in part by his older brother's enlistment in the Navy and his stories of adventure. So, on turning 17 in 1948, his parents signed enlistment papers and off to the Navy he also went. He was sent to boot camp at Great Lakes, Ill. and spent the hot days of that summer drilling and preparing for naval duty. His first assignment was on the USS Edisto, a new icebreaker stationed at the old shipyard in Boston, Mass.—at the foot of Bunker Hill near Old Ironsides. The most enjoyable experiences in his 20 year career in the Navy were spent on the Edisto. The science of icebreaking was new and the Edisto traveled to the Arctic to places not often seen by Americans, including the coasts of Greenland, Iceland, Norway and the Canadian Northwest territories. Sharpton was a deckhand at that time and the duty was cold and rough—but he enjoyed it!
While his adventures began on the Edisto, they didn't end there. After three years, Sharpton was transferred to the USS Shannon, a high-speed minelayer that had its home port in Charleston, S.C. He made one midshipman cruise on this vessel in 1952, visiting the ports of Copenhagen, Helsinki, and Lisbon. The Shannon also accompanied the battleship USS Wisconsin, cruiser and destroyer. After serving on the Shannon, he was transferred to Guantanamo Bay, Cuba where he was able to witness the development of the Castro revolution and the problems faced by the Cuban people. He visited several small Cuban villages around Guantanamo such as Caimanera and Guantanamo City.
Sharpton was later transferred for duty at the receiving station at Charleston, S.C. where he was able to spend several years on shore. His next ship assignment was the USS Pandenius—and from the Pandenius, he was sent to school in Norfolk, Va. for instructor training. After completing this training, he was assigned to the Fleet Training Center in San Diego, Ca. where he served as an instructor for the next five years. During this time he had a brief taste of stardom — appearing with his shipmates as an extra in "Operation Petticoat," starring Cary Grant and Tony Curtis, and even got to meet Marilyn Monroe. After completing his assignment in San Diego, Sharpton served on the USS Kawishiwi, home-ported in Pearl Harbor, Hawaii. While on the Kawishiwi, he made several western Pacific cruises with stops at Midway, Guam, the Philippines, Taiwan, Okinawa, and Hong Kong—and his first tour of duty in the Vietnam conflict.
From the Kawishiwi, Sharpton was transferred to the USS Barry, a destroyer home-ported at Newport, RI. The Barry immediately set sail for an extended tour to Vietnam—a news worthy event as this ship was the first East Coast vessel to serve in the Vietnam War. While on station, the Barry engaged in combat from sea and assisted Marine landings. The ship returned to Rhode Island by way of Singapore, Malaysia, India, the Suez, the Mediterranean, and the Azores. From the Barry, Sharpton was transferred to the USS H.R. Dickson and made one cruise with this vessel. He visited ports in the Mediterranean, with stops at Crete, the French Riviera, Naples, Malta, and other ports.
On arriving back at Newport, R.I., Sharpton was released from active duty in the Navy to start a new life with his wife Faye and their three children. They returned to Cullman, Ala. Having received some training as a technical illustrator and taken up painting as a hobby while in the Navy, Sharpton opened a lettering and sign shop in Cullman and took photographs and painted in his spare time. These pictures attracted some attention as Sharpton began to enter his work into art competitions at the Cullman County Fair, winning Best of Show award three years running. One day a visitor to his shop, Margaret Henderson, asked if he would be interested in interviewing for the position of teaching art at Wallace State. He had been recommended by Mr. Hollis Tucker, the former superintendent of education for Cullman County schools. As Sharpton had been teaching night classes for the county at several local community centers, he knew he would enjoy teaching college age students and gladly accepted the position. His art classes were the first offered at Wallace State Community College.
Sharpton's first classes at WSCC were held in the cafeteria classroom, and later moved to upholstery shop—or any place there was extra space. He was eventually hired as a full-time art instructor and conducted his classes in the deserted body shop. According to Sharpton, it was a rough going at first but improvements were made over time. He also started a photography class and eventually added a basic ceramics class after his department was moved to the red barn. At one time, Sharpton had Painting I, Drawing I and II, Photography I and II and a ceramics classes all going on at the same time, four days and three nights a week. When the state tightened up their rules and determined that he was not academically qualified for what he was doing, Sharpton considered enrolling in night courses to earn a degree. However, he realized in retirement that commitment was more than he wanted and decided to resign from Wallace State.
After leaving his teaching position, Sharpton opened a custom photo lab in Cullman where he intended to do custom developing and printing—but was sidetracked into photograph restoration. The business became so successful that it was overwhelming and eventually unenjoyable. He decided that life was too short for the demanding schedule of his business and he wanted to dedicate more time to creating art. He had plans of loading his SUV with photo gear and taking a long, unplanned trip to the West. Before he was able to follow through with this adventure, Sharpton received a call from Dr. James C. Bailey asking him to paint a mural on a large wall in the new administrative building as well as other pictures for the school. He accepted gladly having realized that working on a college campus was the best place on earth to work.
As Sharpton and Dr. Bailey were driving on campus, looking for a possible artist's studio, they passed the Vocational Education Building. Dr. Bailey mentioned that an area in this building was vacant and Sharpton jumped at the chance to make this a permanent studio—the room had been his first permanent classroom and many happy memories were attached to the place. The area was filled with commercial sewing equipment but when it was cleaned out, Sharpton was able to arrange his studio as he wanted it. Over the years, Sharpton has created many works for Wallace State. Most of the paintings are of subjects he knows well—especially the area around Crane Hill, Ala., where he spent his childhood. He has continued to paint under Dr. Vicki Hawsey's tenure and a number of the paintings on exhibit come from this particularly fruitful period. Last year, his studio moved back to the cafeteria building, and he found inspiration again on returning to familiar territory.
"I am deeply grateful to Wallace State for giving me the opportunity to paint and for the knowledge that my paintings will be enjoyed by others in the years to come," Sharpton said. According to him, this is an artist's greatest hope. "Every artist dreams of seeing all his work set out, and I am so very appreciative and proud to have this exhibition of my work."
In describing how he developed his artistic ability, Sharpton admitted that he had started very young and had the ability to put things together to form pictures. He believes that he was born with this talent and that, combined with the curiosity and intellect; he was able to easily learn on his own to create his art. Sharpton's motto is "If first you don't succeed, try, try again."