Wallace State's Medical Assistant and Drafting programs complete first medical office collaboration project; "Designing Doctors' Offices" exhibition currently on display in Burrow Center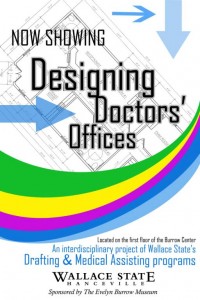 CJ Women's Clinic, Wee Ones Pediatrics and Dr. Whittington's Family Care each may be thriving medical offices one day.
For now, the models of those full-scale doctor's offices, among many others, are the product of the first interdisciplinary effort between Wallace State's Medical Assistant and Drafting Departments, a student project that was completed during the spring semester and was declared a success by both programs.
"I was overwhelmed with the results. It was absolutely fabulous to see students who had never met before come together from different departments and work hard towards a common goal," said Wallace State's Tracie Fuqua, Medical Assistant Program Director.  "The students embraced the project, developed critical thinking skills and learned how to work together with people unfamiliar to them, knowing they were working on a project that was equally important to someone else. No one wanted to be let down."
Added Wallace State Drafting Instructor Kristi Bain: "This project was about student ownership and required each one to consistently meet and communicate with their partner. It was a real-life project. The medical assisting students learned how to work with an architect, relay what they wanted designed and their visions for the offices. It gave our students the experience of having to deal with a real client and creating full-scale office plans. Among many aspects, the drafting students had to detail and outline electrical, roofing and foundation plans and wall and section details."
Before this spring, medical assistant students had annually completed a medical office floor model plan for an Administrative Procedures II class, detailing logistics and features of a model physicians or emergency room facility. In the class, students are required to demonstrate specific details with their models, including how many rooms make up the office, the number of entrances or fire exits and details in each examination room among other aspects.
The project was raised a notch this year after the drafting students joined forces. Drafting students designed floor plans of the models and engaged with the medical assisting students as they collaborated on a handful of ideas and restrictions to assure the model met building codes and requirements, while also working with an imaginary $500,000 budget.
"In 2011 our students did a wonderful job with the project and we invited everyone on campus to come to the lab and see the work. We had some administrators and deans stop by and we talked about ways to engage students from two programs. We thought it was a great idea to ask the drafting students to help our students with floor designs and constructing the office," Fuqua said. "The communication between the students was unbelievable. They had to copy the instructors all of their emails, discussing the project, and I received more than 100 emails. It was important to get two groups of students from entirely different areas of campus engaged in an activity. Collaborative learning like this can take place anywhere and anytime."
The students were paired early in the spring semester and a significant portion of each student's grade was tied to the project. Students were required to meet independently outside the classroom in order to iron out the specific details and challenges associated with the project.
"I think we are were all somewhat hesitant early on when we were paired up, but everyone seemed to work so well together," said medical assistant student Melanie McBride, 18, of Decatur. "It was hard work outlining and relaying all the specific details we wanted our medical office to look like. I'm sure students from both departments gained more from it than we originally thought."
Added Bain: "The drafting student was the architect who never knows what project will present itself and the medical assisting student was in charge of making executive budget decisions with people working for them. It was a great educational opportunity connected to a real life experience. Our students grew from this project and we had some say this project confirmed they're following the best path in life and they realized, in the professional world, that you're not always going to be able to pick the people you work with."
The full-scale models and the accompanying architectural plans are currently on display on the first floor of the Burrow Center for the Fine and Performing Arts.  The "Designing Doctors' Offices" exhibition can be viewed anytime the building is open.
Fuqua plans to speak about the recent collaborative effort at the 2013 American Association of Medical Assisting conference in Atlanta.
"You never know how students will react until you give them an opportunity to learn something they have never done before. In the days of cell phones, texting and email, we thought it was important to force them into situations where there's face-to-face meetings," Fuqua said. "It was fun for me to sit and watch the students who started out as strangers eventually engage each other and see them smile, plan and think about all the minor and major details associated with the project. It was a win-win situation for both programs. We hope to do this again and continue to document how well this example of collaborative learning works within the college."