Fine Art Photography Exhibition by Arden Ward Upton
CONTACT: Gail Crutchfield, Communications and Marketing, Wallace State Community College, (256) 352-8064, gail.crutchfield@wallacestate.edu
HANCEVILLE, Ala. — The Evelyn Burrow Museum at Wallace State Community College in Hanceville is gearing up for several months of exhibits featuring fine-art photography, folk art and more.
First up is an exhibition that would have been dear to its namesake. The museum is showing "Equus" by photographer Arden Ward Upton. Her fine-art photography collection is a series of large-scale images spotlighting the wonder, grace and majesty of horses.
Upton uses the lens of her camera to convey the viewer into a world full of beauty, emotion, and sentiment. Whether photographing people, or in this case, horses, for her it has always been about the details.  She seeks to make those details the focus of every image produced, immortalizing the essence of life as seen in intimate moments. "Equus", her most recent collection, is the personification of her love of horses.
When it comes to photography, she says she has a lot "time in the saddle." A horsewoman herself, it is only fitting that her passion for horses and wildlife is represented in her work. According to Upton, these images have been years in the making, and were in her heart even before she captured them. "Seeing them come to fruition is such an exciting time," she said.
Photographs in the Equus collection were shot as far away as Italy and as near as Upton's backyard — she lives with her husband William Upton at Windwood Equestrian, a word-class training and stabling facility just outside of Birmingham.
Upton's "Equus" photographs can be seen in galleries from Vail to New York.  Her photography has been featured in local, national and international magazines as well as a variety of books, blogs and feature stories.  A recent star of "Jersey Belle" on the Bravo television network, she has also been a contributing writer for lifestyle and fashion websites and magazines and provides style expertise, coaching and consulting.
The exhibition at The Evelyn Burrow Museum complements the museum's collection of horse sculptures and porcelain figures that were donated to the museum by its namesake.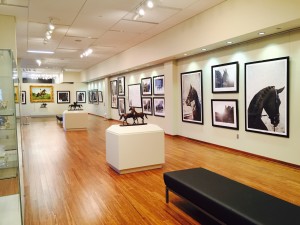 "We have wanted to do an exhibition celebrating Mrs. Burrow's love of horses for a long time, and this was the perfect opportunity and perfect time to do that.  The exhibition seems as though it were made for the Burrow Museum," said Burrow Museum administrator Kristen Holmes.
"Equus" will be on display during the spring horse racing season, including the first two races of the Triple Crown, and will close May 16.
Following "Equus" will be an exhibition of the Alabama folk artist Mose Tolliver, who became known as Mose T (with a backward S), because that is the way he signed his paintings. The exhibition which will travel to the Burrow Museum from the Tennessee Valley Art Museum. It includes 90 paintings from the collection of Dr. R. Douglas Hawkins, of Troy, who has been a folk art collector since the 1990s and holds one of the most comprehensive collections of Mose T's work.
The Evelyn Burrow Museum is open Tuesday-Friday from 9 a.m. to 5 p.m., and Saturday from 10 a.m. to 2 p.m. Admission is free. For more information about The Evelyn Burrow Museum, call 256.352.8457 or visit www.burrowmuseum.org.
Gail Crutchfield
Communications & Marketing Coordinator
Wallace State Community College
P.O. Box 2000, Hanceville, AL 35077
256-352-8064
Kristen Holmes
Director, Communications & Marketing
Wallace State Community College
P.O. Box 2000, Hanceville, AL 35077
1-866-350-9722   256-352-8118 direct
256-352-8314 fax   256-339-2519 cell
Visit us online at www.wallacestate.edu